Sub Contract Manufacturing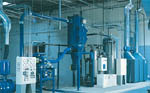 UK Abrasives can provide manufacturing capabilities to enhance and augment your company's production and workload capacity.
To meet your high standards and expectations, we have set the bar high for our manufacturing practices and quality control procedures. We are both ISO9002 registered and certified in NQA1 (Nuclear Quality Assurance Program) compliance for supplying materials for Nuclear applications.
We have a custom build machinery division that can support your equipment and production needs both on site and within our own facilities.
We are one of a very few companies in the world that has been furnacing Boron Carbide powder for over 40 years, and has the most consistent highest quality product. UK Abrasives mills and grades Boron Carbide powders on the most modern processing line in the USA.
Whether you need assistance with special equipment, manufacturing overflow or process development, UK Abrasives is there for you.