Process Development Assistance
Our engineers and technical sales representatives can provide advanced process development assistance to help you better understand and utilize our full line of products.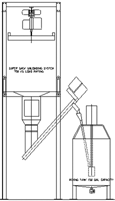 We can advise you on material handling procedures, provide detailed product requirements and specifications or even help you develop specialized equipment, like our custom-built powder bulk bag unloading system.
Perhaps there is an application that you haven't imagined. Our products are so versatile that many people don't realize the wide range of applications and uses that they can achieve.
UK Abrasives is dedicated to helping our clients find solutions to their manufacturing and production needs. We work hand in hand with you to learn your processes and find areas where our products can improve your fabrication methods and resulting end products.
Contact us to find out how our depth of experience and knowledge can help you.